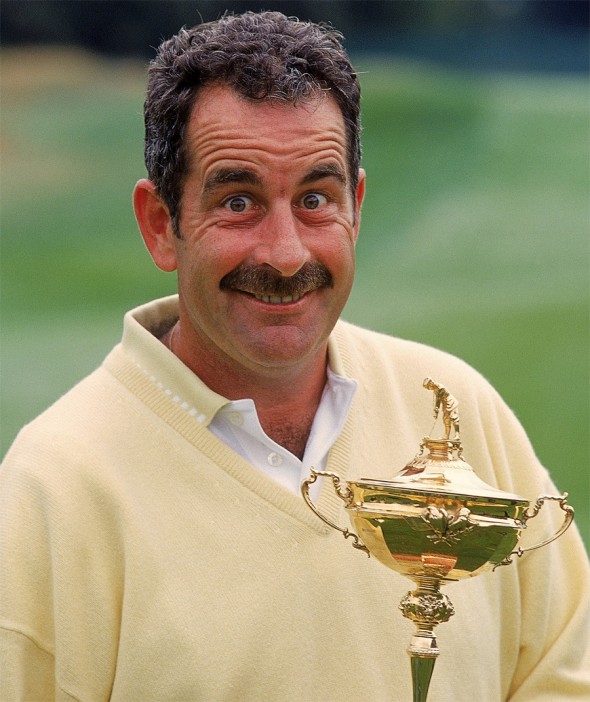 Ask any golf enthusiast their opinion on the greatest player of all time and they'll probably say either Nicklaus, Woods, or Palmer... but you'd never hear them mention the name Swanson (no relation to Ron from Parks and Rec, but you wouldn't know by the same killer mustache). That's right, Alvin Swanson may be the greatest golfer that you've never heard of, and probably because he played on the lesser talked about PPPGA (Professional Putt­-Putt Golfer's Association of America).
With the finesse of Nicklaus and the drive of Tiger, Swanson dominated the PPPGA with reckless abandon. It was here in Tallahassee at the 1998 Rick Austley Open that Swanson played a nearly flawless round of putt­-putt golf. He was, as they say, "in the zone" and making putts never seen made by mortal men. He was just one shot away from breaking the 97 year old course record, which many said would never be broken - and it was at this point that Swanson did something that would live on in sports lore forever.
Swanson shocked the audience and pulled out a blindfold to take the final putt completely void of sight. After several minutes of quieting the disbelieving crowd, Swanson lined up to take what is now known as "the putt heard 'round the world." He made the final putt, broke the course record, won the tournament, and cemented his legacy as the greatest putt­-putt golfer of all time.
Swanson never played on the PPPGA again and disappeared from the sports world all together. Some say he reached the climax of his career and wanted to leave on top, while others say he couldn't handle the fame and recognition the win brought. The golf world lost a legend that day, and nobody has yet to challenge his record.
Now, for the first time in nearly seventeen years, you have the chance to honor the man who left his mark on Tallahassee so many years ago. Come out and enjoy a free round of putt­-putt golf from Sept. 24th through the 27th at Monticello Square in midtown.
Posted September 21, 2015
---