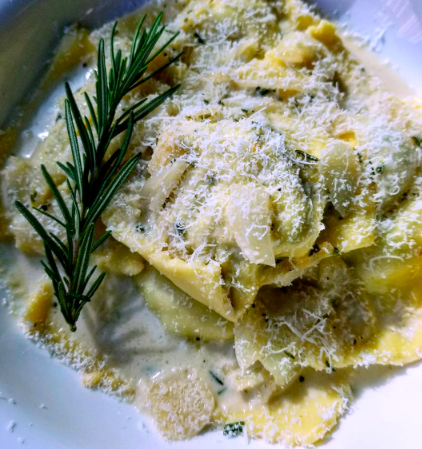 Wild Mushroom Ravioli December Family Meal
$35.00
Grab a coat, make some hot chocolate, and search the skies for the Big Dipper on a Florida-style holiday night. You will have plenty of time to relax when we cook your delicious Wild Mushroom Ravioli Family Meal. Our December Family Meals are available Monday through Friday for the weeks of November 30 - December 4, December 7 - December 11, and December 14 - December 18. This meal consists of:
Wild Mushroom Ravioli with Rosemary Cream Sauce
Rosemary Honey Roasted Carrots
Winter Salad: mixed greens, poached pears, goat cheese, craisins, candied walnuts, raspberry vinaigrette
________________________________________________
Ordering Instructions:
1. In the pickup date drop-down menu choose the date you wish to pick up.
2. Next, choose if you would like servings for two or four.
3. If you would like to pick your meal up at Premier Health & Fitness, please leave a note in the "Special Instructions" comment field during Step 3 of checkout.
Your meal will be available between 4-6PM each weekday at SoDOUGH Baking Co, located at 1306 Thomasville Rd.